Complete wedding photography checklist - locations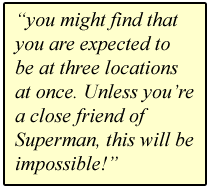 So, you've been asked to photograph someone's wedding. Congratulations! Do you have your wedding photography checklist ready?
You'll naturally want to do a good job, but you may be unsure on what you need to take, who you're going to photograph and how to properly plan for the locations. No problem!
It's why these pages were written!
I'm assuming you have already been to the
wedding photography checklist home page.
And now you need to make sure you are organised with regard to the locations.
This page covers the locations part of your wedding photography checklist. It would also be worth having a read of the other pages on digital wedding photography too. Use the
quick links
for other essentials.
---

Wedding photography checklist – the locations:

You definitely do not want to arrive at the wedding, or wherever your first venue might be, in a muddle. Writing down where you need to go (and finding out how to get there!) should be a key part of your wedding photography checklist.

This should be completed at least a week prior to the wedding itself. This is important! On the morning of the wedding you don't want to be flicking through road atlases trying to figure out how to get to the church!

In order to complete the locations part of your wedding photography checklist you must talk to the bride and groom. Talking to the bride and groom has been mentioned on other pages here too for a very good reason – it's their wedding not yours!

Unless you spend time talking to them you will never fully know what they want from you. And it always makes things go smoother when everyone clearly knows what their role is.

For the locations part of your checklist you will need to ask the bride and groom where they want you to take photographs, and the time you need to arrive by. They may well want photographs in more locations than just the wedding venue itself.

Below are some examples of locations that could go onto your wedding photography checklist:

The bride's house
The groom's house
The wedding venue
Interesting buildings at the wedding venue
A local park near the wedding venue
A beach near the wedding venue
The venue for the reception
The hotel where the couple will stay after the party is over.
WARNING – you have to make sure the demands on you are realistic. After planning the locations you might find that you are expected to be at three locations at once. Unless you're a close friend of Superman, this will be impossible!

It's your job to raise this with the bride and groom, and offer a compromise to them.
---
Other things that should go onto your wedding photography checklist concerning locations are to do with preparation rather than the actual location itself.

You should make sure you know where all the locations are in advance. Find them all on a map, and make sure you take the map with you!

If you are unfamiliar with the locations, visit them. When you do visit keep in mind how you could use a location on the day itself, and add that to your wedding photography checklist.
You may find an interesting feature of a building, or an especially nice part of a park. Perhaps a larger space at a location that will be ideal for group shots.
Visiting in advance also helps you on the day itself because you will know your way around the venues a little better.
Stick to this wedding photography checklist and you should be able to arrive at the right place and at the right time.
It would be well worth having a look at the page on
wedding photography kit checklist
to make sure you arrive with the right equipment. Also have a read of the
checklist of subjects
- you don't want to miss anyone out on the big day!
Finally – good luck!