Wedding photography checklist – digital photography kit
So, you've been asked to photograph someone's wedding. Congratulations! Do you have your wedding photography checklist organised?
Know what digital photography kit to take? No problem!
It's why this checklist was written!
I'm assuming you have already been to the
wedding photography checklist home page.
And now you need to make sure you have the right digital photography kit.
On this page is a wedding checklist that covers your digital photography kit. It would also be worth having a read of the
getting your digital wedding photography kit organized
page too. It goes through the sort of digital photography kit you will need for successful digital wedding photography.
Click here for a printable checklist that covers everything you will need - including a list of subjects - for digital wedding photography.
(opens in new window)

---
Wedding photography checklist – your digital photography kit: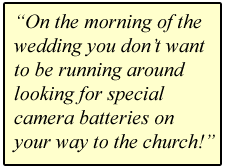 You definitely do not want to arrive at the wedding, or wherever your first venue might be, unprepared.

Writing down what you will need should be a key part of your wedding photography checklist.

This should be completed at least a week prior to the wedding itself. This is important!

On the morning of the wedding you don't want to be running around looking for a vital piece of kit. Or trying to find special camera batteries on your way to the church!

You might have planned to pick something up on the day from your favourite camera store. After all, it's on the way. Why make an extra trip? Well, you can bet that the day you need them to be open early will be the day they had some emergency and had to close.

Whatever items are on your wedding photography checklist make sure they all go into one or perhaps two bags.

A good wedding photography tip - pack your bags the night before. Check everything you needed went in. Check twice. And then get a restful night's sleep. You want to be alert for the next day! In the morning you just have to pick up the bags and go. Easy.


---

Here's a list of essential digital photography kit to put on your wedding photography checklist:
Your camera, with

lens attached

a fully charged battery inserted

blank formatted memory card inserted


Other lenses (unless you plan to use only the one lens the whole day)
Flashgun, with fresh batteries installed
Spare camera battery – fully charged
Spare batteries for your flashgun
Spare memory cards – blank and formatted
Your list of subjects to photograph
Your list of venues, with maps if needed, and times of arrival
Even better than maps - a satnav. If you can, program the locations in before you set off.
When it comes to memory cards, make sure you take enough. More than enough, in fact. You do not want to run out! I suggest sufficient cards to enable you to take about 400 RAW (best quality) photographs for a standard wedding. If you are going to be taking photos of the bride and groom prior to the event, and then photos afterwards at the reception and into the evening, then double that.
How many cards you need depends on your camera. If you can get 100 photos on a 1GB card, then take four 1GB cards with you for a standard wedding (gives you 400 shots). Don't be tempted to take a single 4GB card.
Read why here.
You'll find a user-friendly printable digital wedding photography checklist here.

---
Other things that should go onto your wedding photography checklist that you need to consider are:
Is your suit/wedding outfit ready for the morning?
Does the car have enough petrol?
Will you need to take some snacks? (Seriously! Sometimes you won't get offered any food. And the photographer helping themselves to the buffet doesn't go down too well with the guests!)
Stick to this wedding photography checklist and you should be able to arrive at the church, digital photography kit in place, ready to start shooting and confident that you have all you need for the day.

Finally – good luck!