Fish Photography
by Bonita and Darrell
(USA and London, United Kingdom)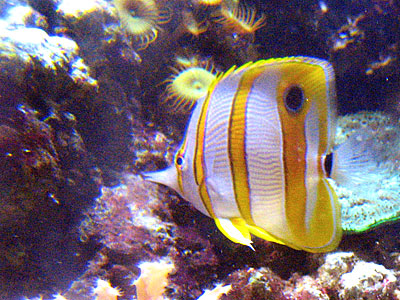 I was recently contacted by someone who was doing some fish photography. She was trying to photograph fish in a tank in an aquarium - and having some difficulty.

As I wrote my reply to her it got me thinking that there may well be more people out there struggling with fish photography. So I thought it would be a good idea to post the original message, and my reply, here.

The message:
I was wondering if you have tips on taking photos of fish in a tank.

For example, I was at the zoo recently and wanted to get some photos of the different fish to make a small photo book for my daughter.

The only pics that I could get to turn out correctly were of the 2 fish that weren't moving, otherwise they were so blurry!

I couldn't use a flash to freeze the motion, but to get enough light it took way to long.

I need help for future trips.

Thank you!

Bonita.


---
Hi Bonita,
thanks for your message. I don't have any specific tips on fish photography in general, and nothing about photographing fish in a tank on my site - maybe I should!
That said, this may help...
as you rightly say the difficulty is in getting enough light into the scene, which you can't alter in a public fish tank. So if you're stuck with the low light available you have to use the camera to compensate.
By far the best thing to so is use a digital SLR camera (because these have more sensitive image sensors) and a prime lens (because these have higher apertures).
Use 'Aperture Priority' mode on the camera and set the aperture at its highest setting (f1.8 is common). This will let in as much light as possible.
Then press the camera lens close to the glass (to avoid camera reflection - you could even touch the glass) check what shutter speed you're getting.
If it's 1/30th of a second or more you should get some reasonable photos. If it's less you need to adjust the image sensor sensitivity. On digital cameras this is the ISO setting.
It will probably be set on either 100 or 200 but will go up to at least 1600 and possibly higher (higher numbers indicate greater sensitivity). Go as far as you need to get 1/30th of a second shutter speed or higher.
If you go too far with the ISO your photos will appear grainy. This look can be improved using software so it's not the end of the world, but best if you can avoid it in the first place if possible.
Unfortunately if you have a compact camera you are reduced to buying over-priced photos in the gift shop as compact camera lenses don't let in enough light and the image sensors aren't sensitive enough.
There is one final option - try going for the slow moving sea life. In the third photo above I've taken a picture of a shrimp. It wasn't moving much and so there was little chance of blur.
And the fourth photo is of a seahorse, again moving very slowly and therefore with little chance of blur.
I hope this helps, and here are some links to pages on my site that explain some of the jargon I've used here in case you need them.
If you'd like more free tips, every month,
sign up to my newsletter
. Free tips delivered to your inbox!
Good luck and I hope these tips help with your future fish photography!
Darrell.