family pic
by Shantel
(Ottawa, IL)

My friend does not have a picture of all three of her kids together!

So recently while she was out of town for business I picked up her kids and took some shots at a local state park. I would like to surprise her with it.

What do you think?


---
My brother and I are currently sampling beverages. It's trickier than you might imagine but bear with me...
There are many colas on the market. Some well known brands and some lesser known ones. Then they come in cans, small bottles, large bottles and "oh my goodness how are we going to get that home" size cases.
And the pricing structure would confuse even the most astute university graduate. Some are priced per litre, some per can and some per pint.
So we were thinking – are we spending too much on our cola? We have spent more time than most I suspect standing in supermarket isles trying to establish which colas represent value for money and which ones are palatable.
So we cane up with a shortlist. Cola "A" – nice enough, and good value if you buy it in large bottles. Cola "B" – beautiful, but an expensive option especially if buying by the can. And finally cola "C" – ok for flavour but no fizz, flat as a pancake.
And by this point you might be wondering what this has to do with Shantel's photo. Well, it reminds me a little of cola "C" – colourful enough, but a little flat.
Fortunately there are solutions available to the digital photographer which I shall come on to. But first, as always, my eye is drawn to the composition.
I like it. Nice to get the children to pose for a photo like this. And with the smallest on top and the two giggling boys underneath it's a lovely composition.
They are in the middle of the photo which works for this scene and in the background are some lively autumnal shades and not a telegraph wire or rubbish bin in sight (the usual suspects for ruining a background).
Composition, good. Fizz... Well, as I have already mentioned this photo could use a little lift. With all those autumnal colours going on there was always going to be a danger that the scene ends up too bland.
So here's the solution, using any photo editing software first of all increase the contrast a little. Then increase the saturation just a bit and finally sharpen the image.
Below is the result of these three steps together with the original (roll your mouse over the photo to see the before and after). Because the image I have used has come from the web it's a low quality image to start with. Using Shantel's original image straight from the camera would achieve an even better result.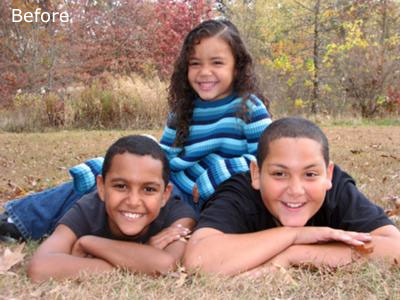 Shantel's photo is nice enough and I'm sure her friend will love it.
I'm off to the supermarket now in an attempt to improve on cola "B".
Darrell.
Discover the secrets of professional photographers!