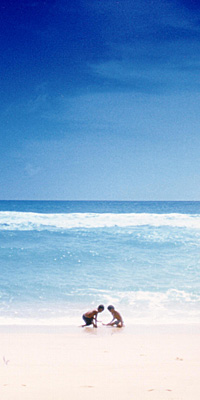 Will somebody please help me out with just a few photography tips? That's what I kept asking when I picked up my first camera.

It's a little daunting sometimes when you pick up a new camera. And confusing too - why don't my photos look like those professional ones?

Sometimes you're not even thinking of professional photos. Just some half decent home snaps would be a good start!

Don't worry, all photographers have been there too. None of us were born taking great photos, we all had to learn, and so can you.

Maybe my story has some similarities with yours? I got my first camera in the late 1980s. It was a 110 film camera, a world away from the digital camera I use now.

I took roll after roll of film and every time they came back from the developers they got a little better.

Slowly but surely I was learning how to take better photos.

But it was a process of trial and error, and it was costing me a lot of pocket money in developing costs!

If I only had someone to show me:

how to hold my camera properly
why underexposure creates more saturated pictures
how to use light for creative effects
how controlling the shutter speed makes such a difference
the importance of good composition (makes an amazing difference!)


I was getting frustrated because my photography was improving, but oh so slowly. Unfortunately there was no-one I could turn to for photography tips.


I didn't know any professional photographers then. I didn't know any keen amateurs either. So I was left on my own to just keep clicking.

Finally, after a lot of trial and error (and a lots of rolls of film!), my photography did improve. Now I find myself in the fortunate position of knowing
when to shift position, just a little, to make a better picture
how to use the rules of photography to get perfect composition
that taking pictures in the middle of the day is usually a no-no
the impact of foreground interest in landscape photos
how to capture perfect portraits
I picked up photography tips from magazines, I did evening classes and I took lots of photos (practice makes perfect!) I finally knew exactly what I was doing.

And these days it's made so much easier because we can download a book bursting with photography tips in seconds! It's like fast-tracking through all that trial and error so you can get to the good stuff straight away.


Time to share my photography tips
And then I created this site to share my photography tips on the internet. It's all free so when you've finished here go ahead and have a browse.

And there's more...




. . . much more in fact. Take a look around my site and you will find a lot of photography tips that I have learned and developed as a professional over the last 20 years.

Much as I love my site and love sharing photography tips I would have to admit that it's easier for most people to just download an eBook. So you get all those photography tips in one place.

You can print it out if you wish, browse it on your computer or even take it with you . . .


I might be wrong...
. . . but I think I'm right in saying that eBooks like the one I'm thinking of can be viewed on all eBook readers.

It's not protected so you can read it on anything.

Read it on your 'Kindle'; read it on your iPads; read it on your laptop; and you can probably even read it on your smartphone if you have one.

Or if you have none of these things you could save it to a memory stick and flick through it at work - on your break of course!


Back to the tips...
But back to those photography tips . . . have a browse on my site and practice some of the tips yourself. Fortunately with digital photography you can afford some trial and error.

It won't cost anything (unlike my wasted rolls of film!)

Then I would recommend getting your hands on an eBook. Again, once you have the eBook, practice. Take your time. A good approach it to select one photography tip each week to practice on.

Over time you will see your photography improve. And with the right eBook you will obviously see faster results.

Don't be tempted to go for anything too weighty - you'll get bored senseless, you'll never finish the book and your photogrpahy won't improve either.


Not only that the bigger the book the more publishers seem to charge - I saw one example recently that was $109! I wouldn't pay that and I don't think you should either.

The best eBook I have come across by far is fairly priced at $37. It has 120 pages full of photography tips that will see you through those early stumbles and really get you up and running.
NB: the sales page will tell you the eBook is $47. But click "Buy" and you'll have the opportunity to buy not just one eBook, but two - for $37. A double bargain!

Tips on photographing children, night photography, vacations and even practical things like remembering to take along a spare battery!

It also has some nice bonuses thrown in for free - currently when you buy you get:
120 pages of photography tips
a second ebook explaining photography jargon (don't ask me why photographers came up with all these words - with this bonus eBook at least you'll know what they're talking about in those photography forums!)
a 'take anywhere' photographers cheat sheet - all the most useful stuff in condensed format.
a step-by-step guide to sharing your photos online
Have a look at the photos on this page. All my own work (I hope you like them!), and many of the things that make them good photos are explained in the eBook.

In a lot more detail than I have space for here.

If you're ready to take your photography up a level you can purchase the photography tips eBook here.

And when you place your order you'll also get the bonus Photography Jargon eBook, the photographers cheat sheet and the guide to sharing photos online too.


---

Don't worry if you're not ready just yet - subscribe to my monthly newsletter, "Stay Focussed". You'll get plenty of digital photography tips and get to know about the latest updates to the site.

Go to the Stay Focussed newsletter signup page
(opens in new window)



---

Return to digital-photography-tips.net home