wedding1
by Dan Moore
(Blue Springs, Missouri)
Just a little bit of whimsy...
(For convenience, all links below open in new windows)
Dan doesn't say if he was the official photographer at this wedding, but with photos like this I doubt the bride and groom would have been disappointed if he was – it's a lovely shot!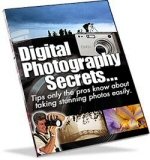 The thing with wedding photography is that, if you're not careful, photos look very 'same-y'. They can look like everyone else's wedding photos.

So a wedding photographer needs to do something that sets this particular wedding apart from the crowd.

I remember a few years ago it was the colour popping era.

More recently 'reportage' wedding photography has become very popular, and for those where money is no object, there are the wedding day photo books. They look stunning, but are very pricey!

Well done Dan to make use of a prop to get a little something different into this wedding.

Obviously this was a posed photo, and as I've said here before, nothing wrong with that. Especially at a wedding. After all, what official photo isn't posed?

This photo uses the concept of using a frame in photography – quite literally!

The concept is that you use something of the surroundings to frame your main subject. It could be some trees, it could be a hole through an old wooden door, or it could be an actual frame!

There is nothing I would alter in this photo. It is meant to be a little quirky, and it is! The slightly wonky frame simply adds to the quirkiness and I wouldn't even think of straightening it.

Thanks Dan for the submission, and I hope it's given some photographers ideas to spice up the wedding photography scene!

You can get even more wedding photography tips here.

Ed.
MORE TIPS!
Want to learn some
powerful photography techniques? Get our recommended eBook
, and start shooting like a pro!