Twiggy
by Brianna Tucker
(Atlanta, Ga, USA)

This was a photo taken from a 1960's imitation photo shoot of my friend, Paige. She was imitating the model Twiggy.

If you look at Twiggy's photos, she often appeared to have a sort of sad, emotionless look which is what Paige was going for.

I took it with a Canon 7D and didn't edit it until later on the computer through Aperture 2 only to make it black & white with a little bit more contrast.

Let me know what you think!


---
Clearly someone knows what they are doing here - well done!
There are lots of things I like about this photo, so I'll take them one at a time so that others can pick up a few tips along the way.
First off, as always, there's the composition. Brianna has gone for the
rule of thirds
here, and that's always a good starting point. But you know what, with this sort of stylistic shot those rules can be broken.
I'm thinking that a 50:50 composition would work well here. "Twiggy" on the right and just space on the left.
But back to all that good stuff…the lighting here is excellent. Clearly there is light coming from the side of the model. And I'm guessing some light is coming from the front too.
When it comes to lighting it often helps to think not of light, but of shadows. Think about where the shadows are and then consider using another source of light to illuminate those shadows. It won't always give the desired result (sometimes shadows are good), but sometimes it works wonders.
The other thing about the light here is that it is diffused – soft light and consequently soft shadows. This creates a really nice effect.
If you want to make diffused light at home you can achieve it by sitting your model near a bright window and draping some netting or linen over the window.
And to diffuse your flash you can buy a plastic diffuser, or if you're using a compact camera a little tissue help over the flash will work too.
And so onto the pose – lovely! Eyes focussed firmly on the lens. Note – the lens, not the person taking the photo! With photos like this ask your model to look right into the lens itself. If they look just a bit away it can destroy the look.
Other than a compositional change (from rule of thirds to 50:50) I would have a little play with the contrast and the sharpness. I have had a crack myself and you can see the result below (
roll your mouse over the photo to see the before and after
). I also removed a tiny white spot over the model's left eye (it was annoying me - sorry!).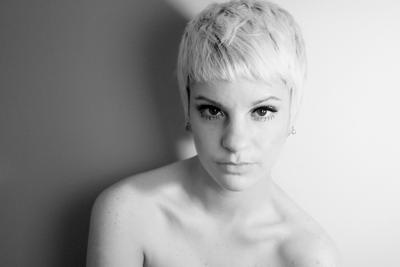 To be honest, I'm in two minds myself whether I prefer the softer look of Brianna's original or the sharper look of my effort. If you have an opinion feel free to comment!
Congratulations on a lovely photo and thanks for the submission Brianna,
Darrell.