This free graphic design software will give your images a professional polish!
We'd all like our graphic projects to look good, and this free graphic design software will give you everything you need.
This came my way by one of those emails that do the rounds and, not expecting much, I was ready to hit 'delete' when something caught my eye and warranted a closer look.
If you've been a regular visitor to my site over the years you'll see I've recommended some great online photo editing software. But this is a little different.
This one is more for producing images or PDFs that you can then make into leaflets, or web designs, or ... well, pretty much anything you like really.
But hang on ... did I say "then
you
make"? Perhaps a better way to put that is the software does the making, the software adds the design, and all you have to do is a bit of dragging and dropping.
Even my six year old can do this! (it's true - she can, and did!)
Free graphic design software - introducing Canva
If you head over to
Canva
the first thing you need to do is sign up. There's a Facebook option (which I always look upon with suspicion - but that's probably just me!) and there's an email sign up option.
I went for email. And within moments I was signed up, ready to go, and had this screen waiting for me: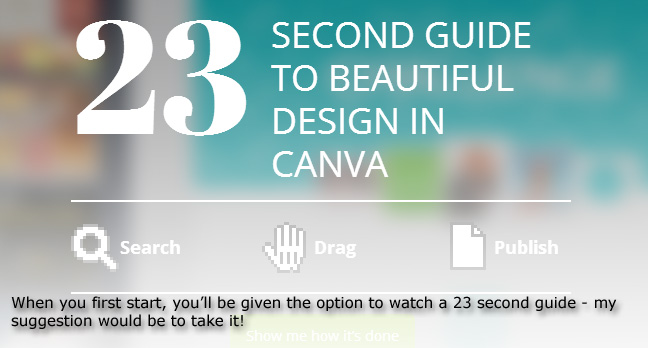 Now, as with all free graphic design software, there's a learning curve. Thankfully, with Canva it takes just 23 seconds!
It's well worth watching the tutorial. It makes it easy to get started and avoids all that frustration of trying to figure out things on your own.
I then moved onto ...
Free graphic design software - creating a design
Which was pretty easy. The screenshot below shows all the tabs, which, if you've used any sort of image editing software before, you'll find easy to get your head around.
To take you briefly through the tabs:
Tab 1 - Search: use this to search for images on a theme you like - from cars to cakes and space ships to space savers! Some images are free, some cost $1 - but there's an alternative (Tab 5 below)
Tab 2 - Layouts: select this to choose your layout. There are plenty to choose from, and the designs are excellent - very professional looking.
Tab 3 - Text: probably self explanatory; use this to add text!
Tab 4 - Background: this is where you can add a background texture. I didn't use this, but have a play with it anyway.
Tab 5 - Uploads: this is where you can upload your own images. So if there's nothing in the stock images that takes your fancy (or you want to save a dollar!) you can upload your own.
All straight forward, and I only encountered one difficulty...
Free graphic design software - making your layers
... which was how to organise my layers. At first I was flummoxed! I'm used to layering images so that I can send something to the background and then have, for example, text overlaid on top.
And, call it Sunday morning sluggishness, call it a lack of coffee, but I couldn't find it for love nor money.
And then ... I spotted it!
At the end of each menu bar, that pops up whenever you select an image element, there's a drop down arrow on the right side.
Click it, and more options appear. One of which will send the element backwards (or forwards, if that's what you need). Simple!
(mental note, stronger coffee required first thing in the morning!)
Free graphic design software - downloading your work
Once you're happy with your work, you can download it as either a PDF or as an image file.
If you haven't used any of the stock images (i.e. you uploaded your own) this will cost you absolutely nothing.
If you have, it's $1 per element you used.
My guess is that spending the money will depend on what you're going to use the final image for. If it's a piece of homework for example, or a simple flyer, maybe you'll just want to use your own images.
But, if it's for something professional, where you really need something to shine, it's worth spending a few dollars to get the look and feel you're after. If you were to have five professional elements, your file would look stunning, and cost just $5 - which I'm willing to bet is a heck of a lot cheaper than hiring a design studio!
And after my early clicking around, here's my finished work (maybe I should describe it as a work in progress!). Check out
Canva - the free graphic design software
for yourself.
By the way, I get absolutely nothing in return for sharing Canva with you - I just like it, and thought you might like it too!