3D Stereoscopic image gallery
Here you'll find a few 3D photos from my collection.
3D photography is a great way to add a little something extra to your photography. It works best when you have a stationary subject, because you need to take two photos in quick succession.
Try taking a 3D photo of your pet dog, and the chances are Rover will have moved between shots! The technique
does
work extremely well for
landscapes
though.
So often we arrive at a stunning landscape and start clicking away with the camera. Equally as often, the results disappoint!
This is because it's the 3D nature of the scene that makes it so stunning. And photographs are only 2D.
Therefore the "wow" factor is completely lost.
3D photography can bring it back! I hope you enjoy these 3D images and if you need help viewing them, here's a
tutorial on viewing 3D sterescopic images
.
---
Below is a photo I took at the Colca Canyon in Peru. It's one of the deepest canyon in the world (the locals will tell you it
is
the deepest!). Twice as deep as the Grand Canyon in the USA. The terraces you see in the background are still farmed. And the three lakes in the near distance – all different colours due to local geological conditions.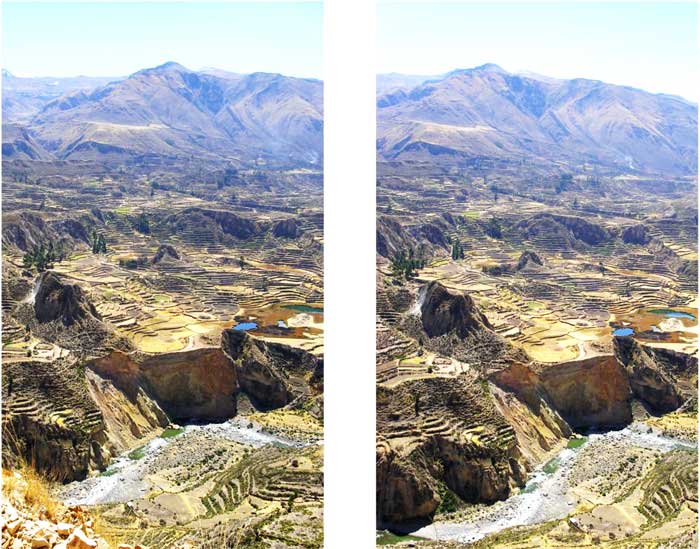 ---
I also took this next 3D photo in Peru. There are Inca burial tombs littering the Peruvian countryside. This photo shows three of them. Sadly they were raided decades ago by the locals. The valuable pots that were originally inside (and contained the remains of the deceased) have all been sold.
---
You'll have seen this next photo in this month's ezine – it's a 3D photo of the Twelve Apostles. I took this one recently whilst on the Great Ocean Road in Victoria, Australia.

---
I took this next one in Hong Kong a couple of years ago. It's the view from Victoria Peak, and it's a skyline that is amongst the most impressive in the world!

---
A perfect English rose!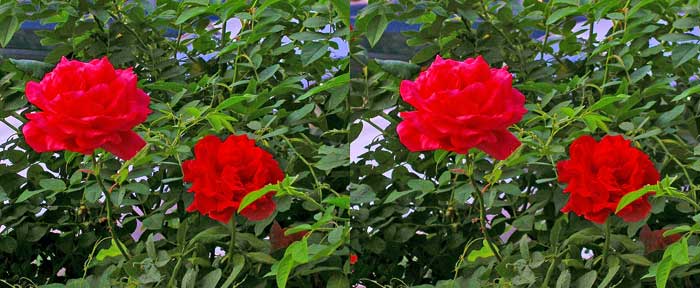 ---
This photo was taken on a recent trip to the seaside - to Eastbourne, England.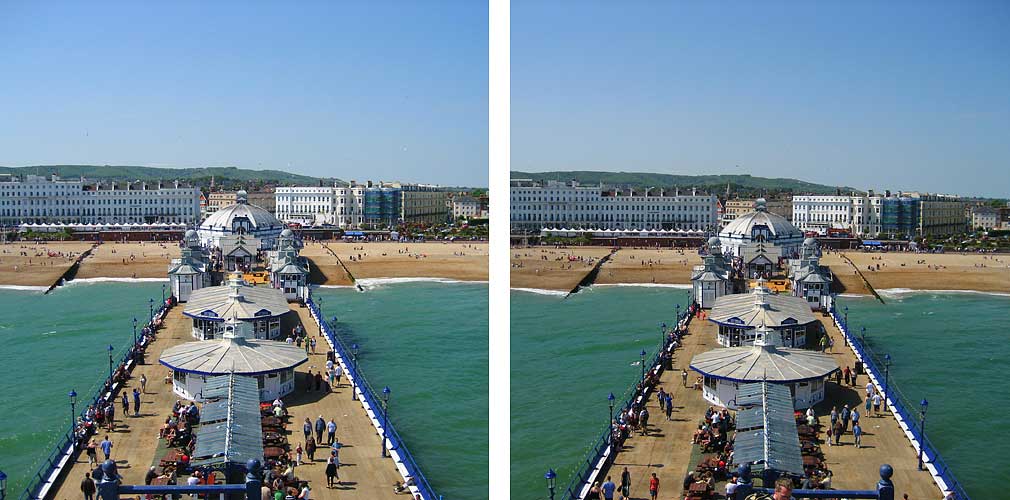 ---
This final photo is originally from Wikipedia, but was set up for viewing with a special viewer. Here I've swapped the two images over so that they can be viewed by the "free viewing" method.