Top quality digital photography printing - printer setup

In this guide I'll show you how to get the best digital photography printing by properly setting up your home printer.

The best printer in the world will produce lousy results if a little care isn't taken over printer setup. Or, to look at it another way, even an average printer can produce great results with the proper set up.


These pages on digital photography printing, and digital-photography-tips.net itself, are updated regularly. To learn out about the updates as they happen subscribe to the digital photography blog, and this site's RSS feed.
---
The equipment
I'll assume you already have a "photo" printer, some good quality printer paper, good ink in your printer and a great digital photography image to print. If not, read my page on getting
top quality digital photography printing at home
to find out why these are essential starting points.
Right, lets concentrate on getting that printer of yours set up.
First you will need to open your digital photo image in your editing software (Photoshop?, or Paint Shop?). If you don't have any special software, and you're using Windows XP then you probably have Microsoft Photo Editor, or Microsoft Paint already installed. Either of these will do just fine.
Once your image is open, and edited if needed, you're ready to start your digital photography printing!
Go to the "file" menu
and
select "print"
. A dialogue box will pop up, looking something like the one below.
Click on the "Properties..." button
:
NB: if you ever see a button in Photoshop or Windows that has a name followed by three dots (like our "Properties…" button below), it means clicking it will open a new dialog box offering you more options.
Are all those menus and controls really necessary
The screenshot below shows what you will see next. This will vary between printer manufacturers. The controls are all the same, they just sometimes have different names.
The two boxes you will need are marked in the screenshot by the two arrows:
Media Type – this tells the printer what type of paper you are going to use. It may also be called Paper Type, Paper Select or something similar.


Print Quality – this tells the printer how much care you want it to take over your print. The more care it takes, the better the print. It will also take longer to print, and use more ink. Unfortunately that can't be helped if you're after the best quality digital photography printing.
Make your selections
OK, next you will need to change the selections in the paper box and the print quality boxes. Use the drop down arrow (marked by
red arrow 1a
in the screenshot below) to choose your paper.
You should be using coated photo paper for good quality digital photography printing, so choose that from the list of papers available. In my example, the best paper selectable is "high resolution paper".
For the best digital photography printing you need to make sure you have set the print quality to it's highest setting. In my example (red arrow 2) it is labeled "high". Yours might say something like "best" or "fine". Whatever it's called, choose the best one available.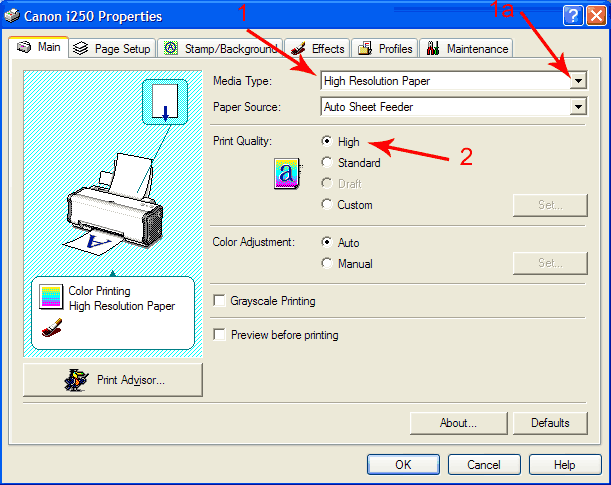 Wait! We're not quite there yet
Right, so you're all set . . . no!
Don't press print yet!
There's one last thing to set.
It won't affect the quality of your digital photography printing, but it will save you paper. Have a look at the "page setup" tab at the top of the dialog box. Here you can set the paper orientation to be "portrait" or "landscape". Choose the one that matches your digital photo image.
If you don't check this is correct you may well end up printing a landscape photograph in portrait mode. One side will be cut off. I know, I've done it on more than a few occasions!


Finally – don't forget to remove any cheap plain paper from your printer and load your more expensive photo paper before hitting the print button. My advice is to only load and print one sheet of paper at a time. If you put a stack of paper in the printer they sometimes get stuck.


Top Tip!

Now you know how to set up your printer for top quality digital photography printing, here's one last tip for the cautious amongst you. Before you print your final image, change those paper and ink settings to their lowest (i.e. "plain paper" and "draft quality").

Then print a test image on cheap plain paper. This uses far less ink than the top quality setting, and if it doesn't look good, you won't have wasted a sheet of photo paper either. Just remember to change the settings back to top quality once the good paper goes into the printer!


---

Return to digital-photography-tips.net home