Corvette ZR1
by SmileyOr
(Portland, Oregon, USA)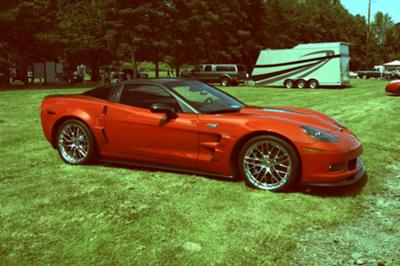 ZR1
I'm looking for some "wow" factor improvement :-)


---
My first car was a Ford "Escort". It was old, even when I bought it.
It was beige in colour. I think most Ford Escorts sold in the UK at that time were beige.
Someone at Ford must have been tasked with coming up with the least offensive colour known to man, and beige was his answer.
Still, it was MY car. And I could do with it whatever I liked.
I wanted to get a little more power out of that 1.1 engine; so I stripped the engine down, cleaned all the bits (some of them had names, I can't remember most of them), and then re-built it all.
Clearly in my head I was thinking that I could do a better job than Ford. Who needs a R&D budget that stretches into the millions when you've got a bag of spanners and some cleaning fluid?
After rebuilding, and ignoring the fact that I had a surprising number of parts left over, I fired up the old girl.
Two things struck me. First, despite all the left over parts, the thing still worked. Second, it was no better than before.
Still, there was always the inside I could tinker with.
So I added a massive stereo. So big that the lights would dim whenever I switched it on.
I added so many dials to the inside of the car that it resembled very much the cockpit of a Lancaster Bomber.
But it was my car and I was proud of it.
I even took it out to the countryside and took its photo. Which brings me back to Smiley's picture.
Smiley's car is a far cry from a 1970s Ford Escort, and a heck lot more photogenic too!
If I saw it parked in a field I think I'd want to take its photograph.
The only thing is, Smiley clearly wasn't alone in this field. I think for this type of photo you need to have just the car, and the open road (or open countryside).
All the rest just gets in the way.
The other aspect of it is the colour cast. It all looks a bit 'faded 1970' which might be why it reminded me so much of my first car.
The colours need a little adjusting to bring them out more.
Fortunately this can all be done with software, and I've had a quick go myself with the second image.
A bit more time could improve it further, but in brief, I used the clone tool to remove some of the background distractions, and I use the brightness and contrast, and the colour cast tools to improve the general look.
Finally I sharpened the photo a touch using the un-sharp mask tool (it's always worth giving your photos a little sharpening).
Here's more information on the
clone tool
.
Thanks for the submission Smiley, and if I have any advice for you - don't strip the engine down, it won't make a jot of difference!
Darrell.