Dear Stay Focussed reader!

Welcome to the digital-photography-tips.net monthly ezine.

First I want to thank everyone for their feedback recently. It's nice to know my website is proving useful. If you have any comments please don't hesitate to let me know. I love hearing from you all!


---

Click to access the members only section of digital-photography-tips.net (edited 12/07 - password protection removed to allow subscribers easier access)


---





Photogenic places of the world - #1
The Great Ocean Road

My photogenic places of the world section is dedicated to finding the places of the world where the photographic material on offer is so rich, you can't help but take great photos!

This month's photo is one I took recently on the Great Ocean Road in Victoria, Australia. The Great Ocean Road offers stunning scenery, with huge pillars of rock rising from the bright blue ocean. The photo is of "The Twelve Apostles".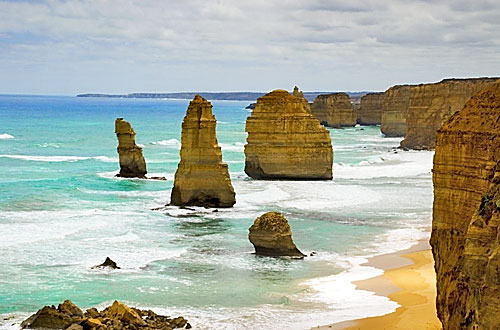 These stunning pillars of rock were once joined to the land, but they're made of slightly tougher rock than the rocks around them. Those weaker rocks have been eroded by the ocean, leaving these more resistant pillars of rock behind.

They are still being eroded (the ocean doesn't stop) and eventually they will all be eroded away. When first recorded there may well have been twelve pillars. But as erosion continues, more and more of them fall into the sea. Currently there are actually only eight pillars of rock left (the ninth pillar fell into the ocean in July 2005).


---



Photoshop tips and tricks

In this section – tips and tricks to help you get the most out of Photoshop. These tips will always be based on Photoshop Elements – the home user version of the software package the pros use.

I recently got an email from a friend who had attached some photos. It took an age to download. Why? Because she simply emailed the original photos straight from the camera.

What she should have done is this:
Start Photoshop Elements and choose "View and organize photos"
Then select the photos you want to email - hold down [Ctrl] and click on all the photos you want to email. When you're done, release the [Ctrl] key.
Then either click on the email button (shown below), or hold down [Ctrl]+[Shift]+[E].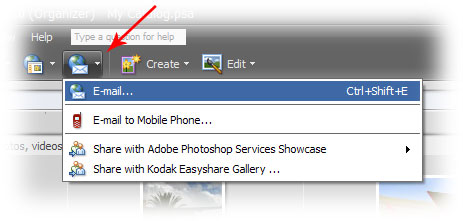 You'll then be asked how you want to email these photos, and how large you want them to be. Simply make your selections.
Photoshop Elements will re-size your photo for emailing. And there's more! It will even show you the location of these photos on your hard drive, so you can copy and paste the location later on when you send your email!

It's little touches like this that make Elements the best photo software around. If you don't have a copy of it you can click here to get Adobe Photoshop Elements for Windows
or, if you're a Mac user, click here to get Adobe Photoshop Elements for Mac
Click if you'd like to read a hands-on review of Photoshop Elements first.

Even though it represents terrific value for photographers, for a few people Elements might be a little too much. If that sounds like you, I recommend you give Google's Picasa a try. It will not only organise your photos, but will perform minor edits too; and best of all, it's absolutely free!

Picasa comes as part of the Google Pack. If you don't want the rest of the pack just de-select them when you get to the download screen.
Click here, and you too can&nbsp


---



Further reading – the newest photography tips and tricks!

Here's the latest additions to the site – always worth a look . . .


---



Help Wanted!

My aim is to share digital-photography-tips.net, and this newsletter with as many people around the world as possible– helping the whole world take better photos!

If you know of someone who would be interested in receiving this newsletter, please forward this email onto them, and ask them to click here, or send them this link:



https://www.digital-photography-tips.net/Digital-photography-tips-newsletter.html




---