Dear Stay Focussed reader!

Welcome to the digital-photography-tips.net monthly ezine.

Welcome to all the new subscribers to Stay Focussed. It's great to see the subscriber list grow every month! If you have any comments please don't hesitate to let me know, I really do love hearing from you!

This month . . .
Tips on taking night time photos
Photoshop Elements keyboard shortcuts
New additions to the site
---



Photogenic places of the world - #5
Hong Kong

I took this picture of Hong Kong in April 2005. I was staying with some friends there at the time and was struck by the height of the city. There's not much space in Hong Kong, so the city has grown up rather than out. It makes it a terrific city for photographers!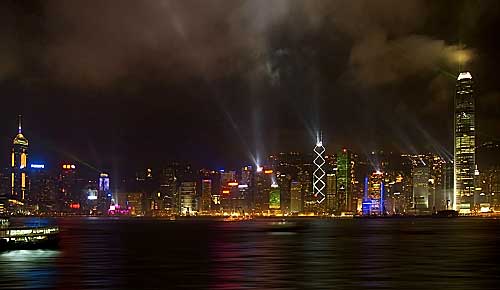 One of the surprises for me was the light show every evening. At first I thought it was a one-off display for a special occasion. But no. Every night the city is lit up with neon lights and lasers.

But how do you photograph it? The trick with this is a long exposure (click for more info on long exposures). Make sure you have either a tripod, or a stable surface to rest your camera on. And you need to use your self timer. If you can control the shutter speed, that will come in handy too. And finally, turn the flash off! (Read why you should turn the flash off)

Here's what you do . . . first, set your camera up. If you can control the shutter, set it for about 30 seconds (use "shutter priority" mode). If you can't, look for a special "night mode" setting. And make sure the flash is turned off!

Then place your camera up on solid surface or a tripod if you have one. In the photo above I propped my camera up on a concrete wall. Set the self timer, press the shutter button, and step back while the self timer counts down and the shutter opens.

And then wait. And wait. And wait . . . until the shutter closes. The reason I suggest you use the self timer is so that you don't jolt the camera while the shutter is open. Jolts will cause unwanted blurring in your photo.

That's it! You're done. Something to be aware of though – your camera may freeze for a few seconds while it processes the data. Because the exposure was so long it takes longer to process, and that's why it freezes. Don't worry though, it's perfectly normal!

Why use such a long shutter speed? Well, if you don't, you will miss some of the lights and lasers that flash on and off. A long shutter speed gives the camera time to capture them all.


---



Photoshop Elements tip

This month's tip is to use keyboard shortcuts! Most programs have keyboard shortcuts that speed up use. For example, pressing [Ctrl] + [Z] performs an "undo" in pretty much every program you might use.

A keyboard shortcut, for anyone who is unsure, is a combination of keys that you can press to perform an action. The same action can usually be done by using your mouse and going through menus. Keyboard shortcuts mean you don't have to go through all those menus!

Here are ten keyboard shortcuts that will speed up common functions in Photoshop Elements:


Keyboard
Combination
Function
Ctrl + N
New file
C
Crop tool
Ctrl + S
Save
W
Magic wand selection tool
Y
Red eye tool
Spacebar
Hand tool (hold down the Spacebar, then hold down your left mouse button, then move your mouse)
Ctrl + 0 (zero)
Show full image (use when you have zoomed in too much and have gotten lost in your image!)
Ctrl + Alt + Spacebar
Zoom out (hold keys and click your left mouse button)
Ctrl + Spacebar
Zoom in (hold keys and click your left mouse button)
Ctrl + P
Print


These keyboard shortcuts look a bit tricky, but once you get the hang of them you'll wonder how you ever got by without them!

If you don't own any photo editing software I can highly recommend Adobe Photoshop Elements
. Read my Photoshop Elements hands on review to find out why I rate it so highly.
---



Further reading – the newest photography tips and tricks!

Here's the latest additions to the site, and a few other highlights, – always worth a look . . .

---



Help Wanted!

My aim is to share digital-photography-tips.net, and this newsletter with as many people around the world as possible– helping the whole world take better photos!

If you know of someone who would be interested in receiving this newsletter, please forward this email onto them, and ask them to click here, or send them this link:



https://www.digital-photography-tips.net/Digital-photography-tips-newsletter.html




---