Dear Stay Focussed reader!

Welcome to June's newsletter.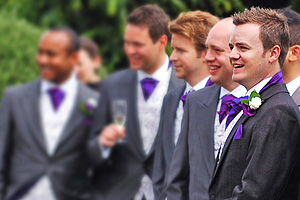 As it's wedding season (at least it is for those in the Northern Hemisphere!) I couldn't help but give you another wedding tip.

I know last month's tip was also a wedding one and I promise this will be the last one this year!

I was at a wedding recently, as a guest not as photographer, and it struck me that as a guest you have opportunities that the professionals often don't get - the more unusual wedding photos.


Wedding photography tips
If you're invited to a wedding over the summer, first try the tips in last month's newsletter, and then...

While everyone is looking at the staged photos, have a wander around to see if there's something unusual to include. Things to look out for are:
A photo of the back of the assembled group,

A photo of a bridesmaid touching up her make-up,

A tray of drinks in the foreground with the assembled group in the background,

A photo down the line of the group (like the one I took that you can see here).
And there will be plenty of other possibilities too!

One way to make your photos a bit more classy is to use a shallow depth of field (that's what I did here). This creates a really sharp foreground and a blurry background.

Here you can find out more about controlling depth of field.

And if you're interested in taking wedding photography a step further there's a complete wedding photographers package that will get you on your way.

You can find out more about it here.

See you next month, and no more wedding tips - I promise!

Darrell.
PS: As you already know my website and all the tips are, and always will be, free. If you find the site useful and would like to say thanks, how about buying me a coffee?
You could be donating a steaming hot beverage in just a couple of clicks.

Thanks!