Dear Stay Focussed reader,

(Just a brief word before you read on...long term subscribers to my newsletter will know that I rarely promote other photographers (have a look back through the back issues and you'll see what I mean). But Amy is different and this offer is shaping up to be something really special - hence my email to you today. If it's genuinely not for you, no problem, and hope you continue to enjoy the site, and my regular newsletter tips nonetheless!)

A couple of days ago I sent you an email about Amy Renfrey's amazing special offer. It still isn't quite ready, but I've got some more details about it.

As I mentioned, if you sincerely want to revolutionize the way you do photography, then this is exactly what you need. This is a "Behind The Scenes" offer, that just you are permitted to (remember, this offer will ONLY be available to my subscribers).




A little more on Amy Renfrey (if you don't know Amy Renfrey, then you'll certainly want to) - she educates and guides countless people, just like you, on how to get stunning photos as quickly as possible.

She makes things easier than ever before. She explains the advanced photo methods and the top secret, undisclosed secrets that the professional photographers don't want you to find out.

I know professional photographers and other photography teachers would be very unsettled and uneasy if they understood exactly what she was giving away.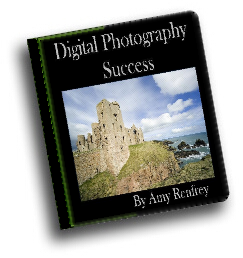 So here it is...
Amy's got a spectacular monthly e-Magazine, plus she has 9 ebooks on photography.

And what she's offering to you is incredibly stunning.
And here's how it goes...
When you take out a subscription to her monthly e-Magazine "Focus" you get her whole collection of eBooks worth $221.82 absolutely free. But it doesn't end there; she's also giving you 8 back-issues of her monthly Ezine, valued at $120 to go with it.

But don't go to her website, or email her and ask how to get this offer. Because this offer is not accessible anywhere else. In fact there is no special website for this. And she's only making this offer for a few days.

You're probably wondering how this works. I asked Amy today where she is up to with this brilliant offer.
Here's the offer...
Take out a subscription to Focus and each month you'll be sent an eBook from her entire eBook collection, plus 8 back issues from her Ezine collection at no charge whatsoever.

You'll also receive her fantastic photography instruction videos, with each Ezine, and have your questions answered on lighting, flash, weddings, and so much more. And, the longer you are on the subscription the more you get.

Oh one more thing about the offer. If you can't take up the offer now but want to take out a subscription later you can, but you will not be offered the entire collection of ebooks for free. You'll have to pay for it like everyone else.

As I said before this is a special offer for my subscribers only. You can't buy this anywhere else. So don't miss out!

You'll be getting over $300 worth of professional photography info absolutely free.

I'll email you again in the next couple of days with the final details about how this all works. Take advantage of this wonderful offer and you'll be amazed at what it will do for your photography.

See you soon,

Darrell.