Dear Stay Focussed reader,

Good news!

In my last newsletter I mentioned that I had been in touch with my "Friend-In-Photography" Amy Renfrey. I'm trying to put together an offer for my subscribers, similar to a special deal I offered a couple of years ago.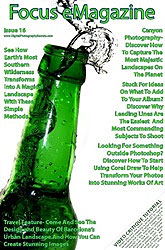 The offer is looking good and once again it will ONLY be available to my subscribers.

First, a little about Amy for you - she's a professional photographer and has an amazing ability to show you how to transform your photographs into supreme works of art.

Last year she gave away over $300 of "photographic know-how" for nothing, to my subscribers.

My inbox was overflowing with emails from people telling me how much they loved what Amy had to offer and were astonished with her products.

I've known Amy for a few years now and I can say with conviction, that she puts her heart and soul into all she does.

This year's offer is looking remarkable, and you will not come across this again. You won't find it on any webpage, because this is for my subscribers only.

The best news is that this time around Amy is offering even more.

So just what do you get? You get her entire works of stunning photography ebooks valued at $221.82.

You also get 8 issues of her extremely popular monthly Ezine valued at $120.

Which means free goodies worth $341.82!

This incredible life changing, powerful photography advice will seriously alter how you approach your photography.

Amy's making last minute adjustments so it's not ready yet. She tells me that she will have it ready in a couple of days.

If you want a sneak peak, check out Amy's Website. See what she's got, but don't buy anything! Wait for me to send you an email in a few days as to how you can get the lot for free.

I'll be in touch again in a couple of days.

Darrell.