Dear Stay Focussed reader!

Welcome to the digital-photography-tips.net monthly ezine.

Welcome to all the new subscribers to Stay Focussed. It's great to see the subscriber list continuing to grow! If you have any comments please don't hesitate to let us know!

This month . . .
Tips on taking photos of people
How to sharpen your photos in Photoshop Elements
---



Photogenic places of the world - #11
Vietnam

I took this picture in Vietnam in 2006. Vietnam is a wonderful country to visit, and one of the real treats are the local people. It would be a shame to not go home with a few photos of them.

Photographing people, especially children, can be a challenge. It helps if you can make them smile and laugh a bit as you shoot as you'll capture some friendly smiles!

Tips to help you out here - smile yourself, ask before you take any photos, for children - act the clown a little, and finally - show them the results on your camera screen (they love that!)

The result is below: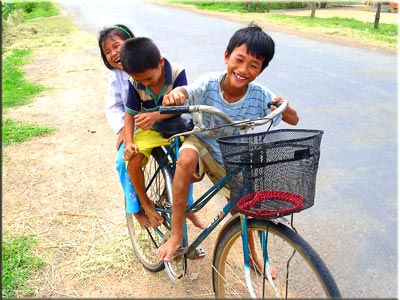 ---



Photoshop Elements tip

This month's tip is to sharpen your photos!

When you have finished editing your photos the last thing you should do before saving them is sharpen them. This makes photos stand out just a little more, and it's really easy to do.
Once you have finished editing, make sure your image is in one layer - go to 'Layer' and choose 'Flatten layers'
Then go to 'Enhance' and click on 'Unsharp masků'
The dialog box that opens gives you a few options. The ones I go for are:

'Amount' - 100%
'Radius' - 1.0
'Threshold' - 0
Try this on a photo and see the difference it makes!


---
If you want to find out more about photography, these are our RECOMMENDED eBOOKS:

---



Help Wanted!

My aim is to share digital-photography-tips.net, and this newsletter with as many people around the world as possible- helping the whole world take better photos!

If you know of someone who would be interested in receiving this newsletter, please forward this email onto them, and ask them to click here, or send them this link:



https://www.digital-photography-tips.net/Digital-photography-tips-newsletter.html




---