Dear Stay Focussed reader!

Welcome to March's newsletter,

Apologies for being a little late this month. Our internet connection went a bit pear shaped and we've only just got it back.

We live in Berkshire but from the reliability of our ISP we might as well be in the Himalayas!

Still, enough ranting...the sun has finally shown itself and I was pondering over some late afternoon shadows the other day. Which made me think...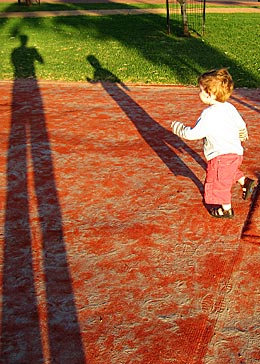 Using shadows creatively
As a photographer shadows can be a real pain. But they can also add an extra element to a scene if you try to incorporate them into your photo.

Have a look at the photo here. We were going on holiday and we arrived at our destination late in the day. Long shadows everywhere.

So I decided to make use of them. The little fella was running around and I waited until he was running in front of me.

The result was my enormous shadow!

I'm not going to pretend that this is the best photo of all time, and if I rifled through my hard drive I might find a better example, but I think it does show that shadows can be used creatively if you position yourself thoughtfully.

Give it a go yourself and see how creative you can get with shadows.


Amy...
Long term readers will remember Amy. She's the author of some pretty amazing ebooks and also produces an excellent monthly publication (subscription only).

I know many of my readers have benefitted from Amy's extensive photographic knowledge in the past and I've been in touch with her again to see if she can do a special offer for my readers.

I have nothing concrete yet I'm afraid, but hopefully soon I can bring you news of a great offer.

That's about all for now,

Try to take a few 'shadow' photos and see you next month,

Darrell.