Dear Stay Focussed reader!


Welcome to December's newsletter; and a very merry Christmas to all my subscribers!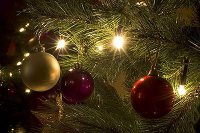 Have you been good this year? Will Santa be bringing you a shiny new camera? New camera or not Christmas is a great time to be taking photographs.

All those family and friends to catch up with, far too much food to eat and silly hats to wear - but what is a photographer to do with all this?

Last year I suggested taking photos of the whole day and making a photo journal of your Christmas. That's a good starting place for Christmas photo ideas.

My Christmas photo tip this year is more for after the event than before or during.

Christmas Photo Tip

Once you have all those photos (and no doubt your memory card will be as full as the family following Christmas dinner!) prune them. Be ruthless and aim to whittle down the photos to just twelve.

There are a few reasons to do this - first, it makes you look at your photography with a critical eye. Second, there are twelve days of Christmas. And finally, there are twelve months in the year - which means . . .

You could then make a calendar with the twelve best photos of Christmas Day and enjoy them the whole year round!

A few years ago I would have suggested printing these yourself. But now there are so many online photo printers that do a fab job at making calendars (and mugs, and cushion covers, and . . . !) that I suggest you locate one in your country and send them off.


---
Don't Forget New Year

For the last three years I've run a 'take a photo on New Year's Day and send it in' feature.

It seems fairly popular and I think it would be nice to do it again - it gives us the chance to see what it's like in your part of the world on New Year's Day.

So, if you can, please take a photo on New Year's Day and submit it here.

It could be a photo of your local area, your house, your living room, your family, even your lunch!

Just tell us a little about where you are, and what the photo is of.


---
That's about all for now. I hope you have a restful festive season and see you next month,

Darrell.